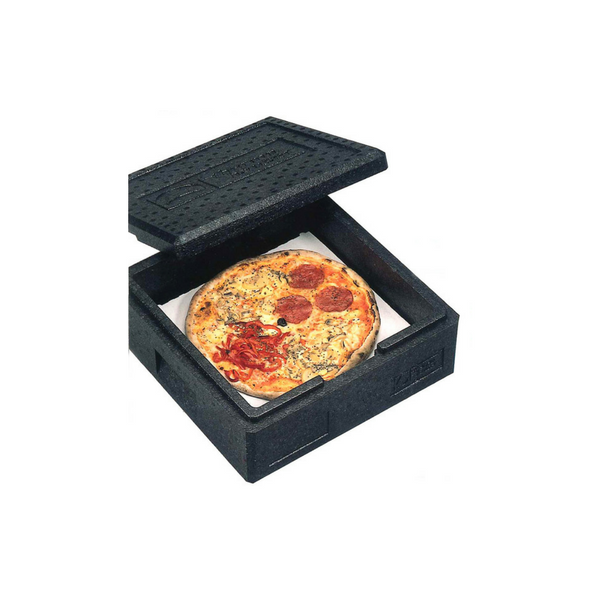 Thermohauser, Thermo Transport Box, Pizza Box
Description
Pizza Box
Comes with lid.
This box is made of high insulating EPP (expandable polypropylene) and EPS (expandable polystyrol). It is very light, but also very robust and most importantly food safe. This Thermohauser box is the perfect choice to store and transport pizza.
No CFC was used in producing the boxes, they are completely recyclable.

About Thermohauser EPP-boxes - the top level for transportation and insulation!
The material EPP has been used for decades in the automotive industry because it is light-weight but at the same time extremely shock and break resistance. It is robust and has a long lifetime.
In the early 1990s Thermohauser recognised the advantages of the material to be used in the food sector – since they have continually developed products with this material.

The Thermohauser boxes are perfectly insulating, mainly in a temperature range from -40 °C up to +120 °C.
Loss of temperature is low, so the boxes are ideal for the transport of temperature sensitive food items and ready to eat meals.
Their absorption of flavours and odours as well as their acid resistance make them a perfect solution for meeting hygiene standards, even during longer transport times.
On top of that, the boxes are dishwasher-proof and easy to clean. Another aspect to make transport as well as storage more comfortable is the stackability of the boxes.

Thermohauser EPP-boxes – the right choice, if quality and price are a factor.
Specifications
External size: L410 x W410 x H160 mm
Internal size: L350 x W350 x H100 mm
Volumn: 12.5 L
Weight: 0.75 kg
Packing: per box
Brand: Thermohauser
Delivery
Standard Delivery
Delivery lead time:
** Three (3) to seven (7) working days for Peninsular Malaysia, and
** Five (5) to ten (10) working days for East Malaysia including Labuan,
from the date you receive our payment notification within the aforesaid areas unless otherwise notified by Pastry Pro Retail Sdn Bhd.
Temperature Controlled Delivery For Frozen & Chocolate Products
All Pastry Pro Frozen Products are delivered using the Cool Ta-Q-Bin temperature controlled delivery.
For now, Cool Ta-Q-Bin only covers certain locations in Klang Valley, Johor Bahru and Penang.
To check if your area is within Ta-Q-Bin's coverage area, go to the link below and enter your postcode:
http://my.ta-q-bin.com/v2/content.php?id=56
Delivery will take 3 to 5 working days upon payment.
WHERE INDICATED, PLEASE SELECT TA-Q-BIN AT CHECK OUT