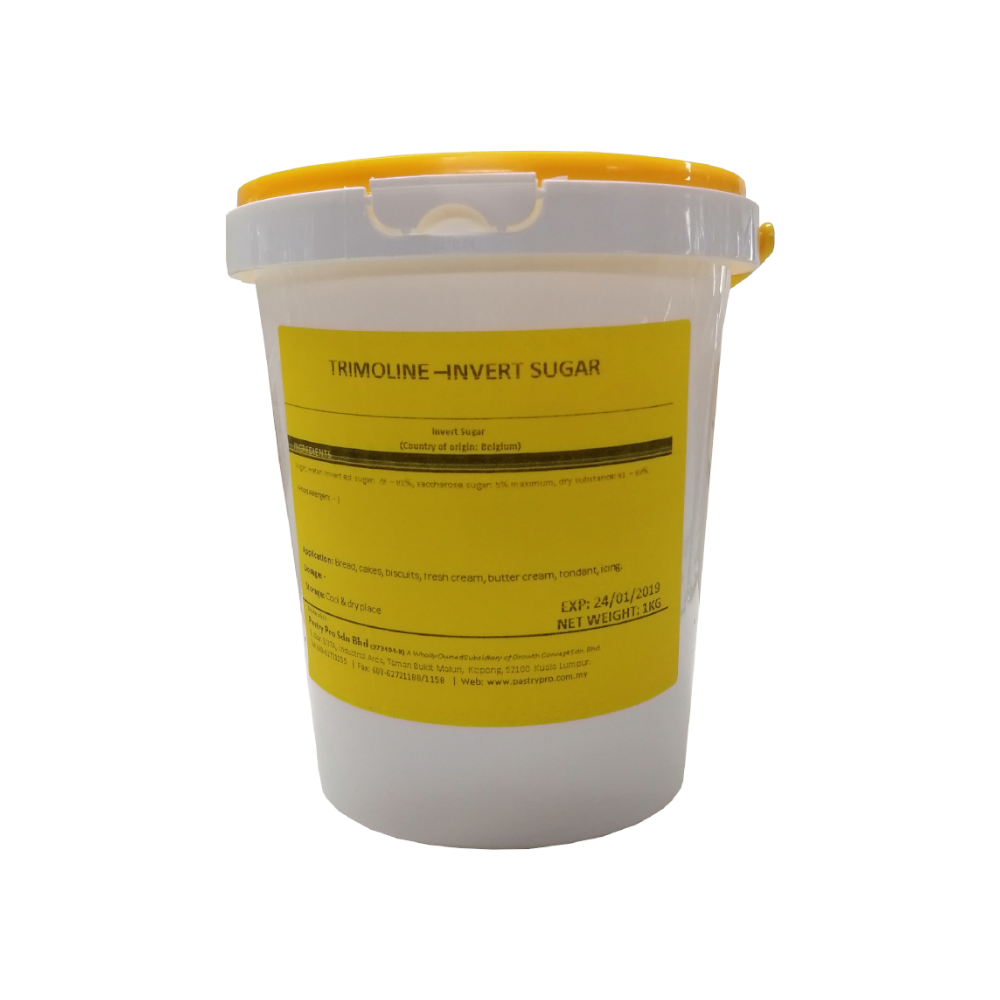 Trimoline, Invert Sugar, 1 kg
Description
Trimoline, Invert Sugar
Trimoline - A NATURAL ingredient that has many uses and many benefits to every bakery product
Application
Baking: Bread, Rolls, Buns, Cakes, Sponges, Biscuits
Preparation: Fresh Cream, Butter Cream, Dried Fruits, Marshmallow, Fondant, Icings
Others: Ganache, Ice Cream, Sorbet

Features
>> An inverted sugar syrup with high dry substance.
>> An uncrystallizable sugar that allows freshness and softness to remain for a longer period of time.
>> With Trimoline, you add control to your baking, increasing tolerance and controlling fermentation. Because Liquileb Trimoline caramelises readily, it avoids over baking. Trimoline is also a humectant that retains moisture and prolongs a product's shelf life. Resulting in a more flavourfull and a more attractive product.
>> Unique formula will allow:- 10% of sugar in the recipe to be replaced with same quantity of Liquileb Trimoline.
>> No other recipe adjustments required.
>> Brix (at 20°C): 79-81%
>> Storage Condition: 15°C-25°C
Packing: 1 pail x 1 kg
Delivery
Standard Delivery
Delivery lead time:
** Three (3) to seven (7) working days for Peninsular Malaysia, and
** Five (5) to ten (10) working days for East Malaysia including Labuan,
from the date you receive our payment notification within the aforesaid areas unless otherwise notified by Pastry Pro Retail Sdn Bhd.
Temperature Controlled Delivery For Frozen & Chocolate Products
All Pastry Pro Frozen Products are delivered using the Cool Ta-Q-Bin temperature controlled delivery.
For now, Cool Ta-Q-Bin only covers certain locations in Klang Valley, Johor Bahru and Penang.
To check if your area is within Ta-Q-Bin's coverage area, go to the link below and enter your postcode:
http://my.ta-q-bin.com/v2/content.php?id=56
Delivery will take 3 to 5 working days upon payment.
WHERE INDICATED, PLEASE SELECT TA-Q-BIN AT CHECK OUT
Customer comments
| Author/Date | Rating | Comment |
| --- | --- | --- |