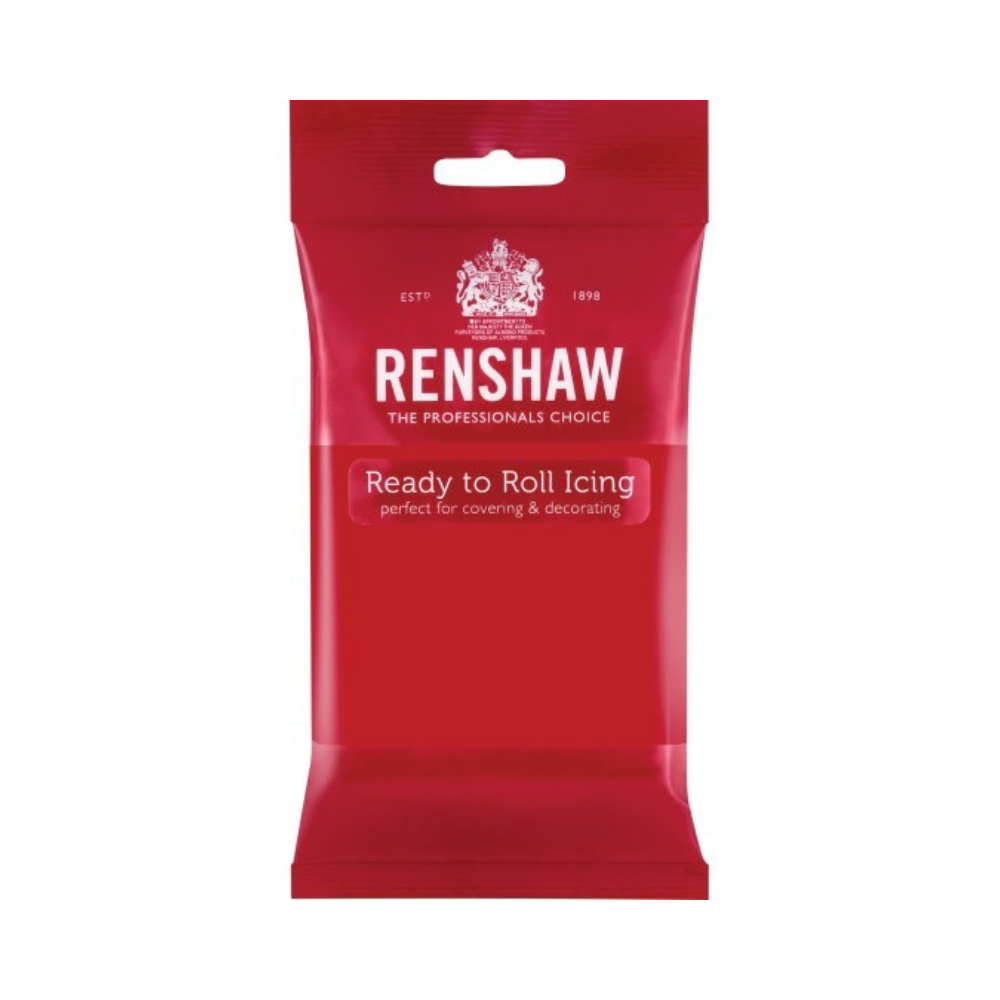 Renshaw, Ready To Roll Icing, Red Fondant
Description
Ready To Roll Icing
Colour: Red
The leading brand of sugarpaste in the UK.
Versatile icing suitable for a wide range of applications, from covering and sheeting, to simple modelling and sculpted cakes
Packing: 1 pkt x 250 g
Brand: Renshaw (Made in United Kingdom)
Benefits:
- Recipe specially tailored to perform better in hot and humid climate
- Firmer texture, more elasticity, high strength and good stretchability
- Has range of application that highlights the versatility of the product
- Has good eating quality
- Can be coloured or airbrushed
- Halal certified
- Suitable for vegetarian and vegan diets

Improved Features:
- Greater elasticity which reduces ripping and tearing
- Can be rolled extra thin and gives good coverage
- Easy to work on deep and
How To Use:
Knead until pliable, and then mould or roll out on a surface lightly dusted with icing sugar to desired thickness.
Hints & Tips:
- For the best result, try and ensure temperature of your working environment not exceeding 25°C
- Ensure you knead well to activate the gums before pinning out.
Delivery
Standard Delivery
Please allow:
** Three (3) to seven (7) working days for Peninsular Malaysia, and
** Five (5) to ten (10) working days for East Malaysia including Labuan,
from the date you receive our payment notification within the aforesaid areas unless otherwise notified by Pastry Pro Retail Sdn Bhd.
Pre-order Delivery
Please allow: 3-4 months for pre-order deliveries from the date you receive our payment notification unless otherwise notified by Pastry Pro Retail Sdn Bhd.
Please note that we will not accept delivery to a P.O. Box address and it might not be possible for delivery to some locations within the aforesaid areas in certain circumstances. If delivery to some locations is not possible, we may contact you to arrange for delivery to an alternative address.
Customer are required to choose their preferred courier service. Delivery charges of all our partners will be published before checking out of shopping cart.
Customer comments
| Author/Date | Rating | Comment |
| --- | --- | --- |