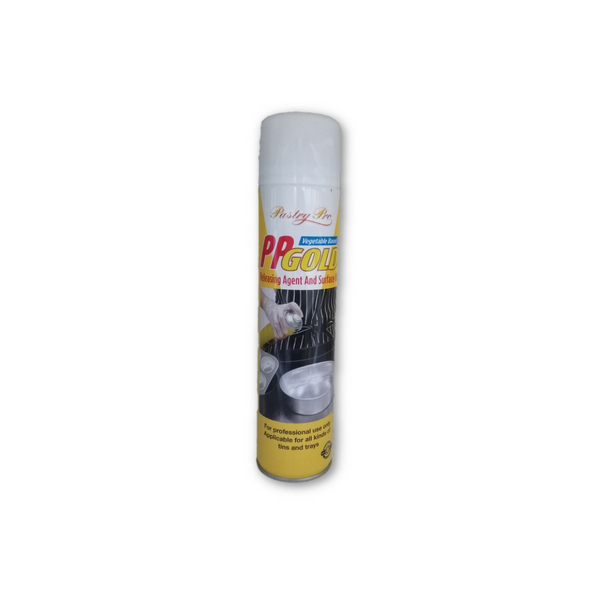 PP Gold Pan Release Spray (Road Shipping Only / Peninsular Malaysia Only)
Description
PP Gold Pan Release Spray
Vegetable based releasing agent and surface oil.
PP Gold pan releasing agent is based on rapeseed oil , carnauba wax (palm wax) and rapeseed emulsifier.
Volume: 600ml
Advantages of PP Gold:
Specially developed for releasing pastry and bakery products that contains high sugar and protein (i.e. cake, muffin, waffle, tartlet, bread and more).
Good stability of oil oxidation, prolongs shelf life of the baked products.
Reduce carbon build up (carbonization) on the baking containers, allow easy maintenance of baking containers.
Even and thin oil coating for beautiful baking colour.
Clean baking environment, less mist generation during spraying.
Cost effective compared to manual brushing method.
Excellent fluidity and adhesion, ideal for all kind of baking forms (i.e. teflon, cast iron, stainless steel, aluminium etc) and shapes (i.e. flat or angled)
Ingredients:
Vegetable oil (rapeseed oil)
Thickener, E903 (vegetable wax)
Emulsifier, E322 (rarpeseed)
Direction of use:
Shake well before using. Apply thinly and evenly,. Spray distance 20 - 30 cm.
To prevent clogging, turn the spray upside down and spray for a few seconds after use.
If the nozzle is clogged, remove and clean it with warm water.
Storage: 15 - 20 °C
For professional use only.
Made in The Netherlands
Delivery
Standard Delivery
Please allow:
** Three (3) to seven (7) working days for Peninsular Malaysia, and
** Five (5) to ten (10) working days for East Malaysia including Labuan,
from the date you receive our payment notification within the aforesaid areas unless otherwise notified by Pastry Pro Retail Sdn Bhd.
Pre-order Delivery
Please allow: 3-4 months for pre-order deliveries from the date you receive our payment notification unless otherwise notified by Pastry Pro Retail Sdn Bhd.
Please note that we will not accept delivery to a P.O. Box address and it might not be possible for delivery to some locations within the aforesaid areas in certain circumstances. If delivery to some locations is not possible, we may contact you to arrange for delivery to an alternative address.
Customer are required to choose their preferred courier service. Delivery charges of all our partners will be published before checking out of shopping cart.
Customer comments
| Author/Date | Rating | Comment |
| --- | --- | --- |