Pavoflex Mould - 3D, Noisette

The CÉDRIC GROLET for Pavoni line proposes, for each of the 3 subjects - lemon, hazelnut and chestnuts - a kit of silicone moulds able to realize different types of creations.
Each silicone mould has been studied with small variations, small details that will give the finished product a wholly original, authentic and real feature.
Mould Size : 400 x 300 mm
Size : Ø 60 x H 35 mm
20 indents
Vol : 65 ml
It can be combined with XF7020
Packing : per piece

Brand : Pavoni (Italy)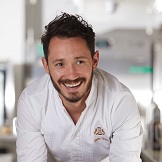 Cédric Grolet was elected "The World's Best Pastry Chef 2018"