Description
Decor Stencils
Alphabet Set 1 - Capital Letters
An unique approach to for putting on intricate and difficult designs on to your cakes or cookies by using royal icing, dusting colours, air brush or melted chocolate.

Made from durable food-grade plastic.

Transparent plastic for easy view and space adjustment.

A must have tool for the professional cake maker.

Alphabet size: 70 x 70 mm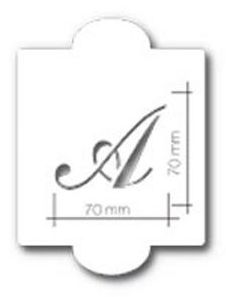 1 set x 26 pcs
UOM: set
Brand: Pavoni (Italy)
Use
Place the stencil on sugar past. Spread out Realghiaccia (previously prepared) uniformly, or spray the colour with airbrush. Raise the stencil on let dry.