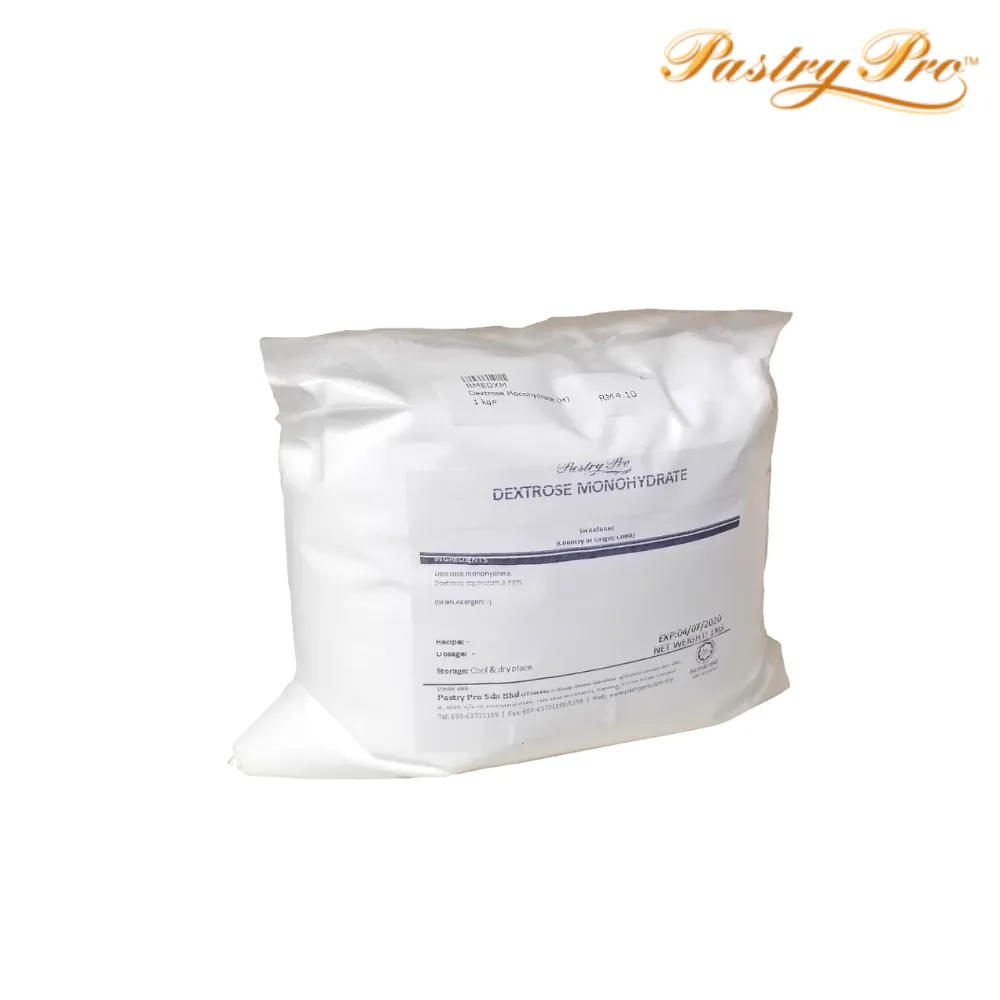 Pastry Pro, Dextrose Monohydrate, 1kg
Description
Dextrose Monohydrate
It is naturally occurring and is found in fruits and other parts of plants in its free state.
It is a Sweetener, Energy Source, & Bulking Agent.
Applications
• Baking (Biscuits & cookies, Breads, Cakes & Pastries, Fillings, custards & decors)
• Cereals & Snacks (Breakfast cereals, Cereal bars, Salty snacks)
• Beverages (Powdered beverages)
• Confectionery (Coating, Chewy sweets & Marshmallow, & Jellies, Mints & tablets)
• Dairy (Ice Cream)
• Processed meat & seafood (Delicatessen)
• Sauces, dressings & soups (Soups, Sauces)
• Savory (Seasonings, Ready Meals)
• Sports nutrition & weight management (Protein powder, Protein RTD, Protein Bar)

Functional Properties
• Nutritional Balance (Energy source)
• Sensory Enhancement (Sweetness)
• Formulation Performance (Bulking agent)
• Shelf life extension (Freezing point depression / Cryoprotection)
Packing: 1 bag x 1 kg
Delivery
Standard Delivery
Delivery lead time:
** Three (3) to seven (7) working days for Peninsular Malaysia, and
** Five (5) to ten (10) working days for East Malaysia including Labuan,
from the date you receive our payment notification within the aforesaid areas unless otherwise notified by Pastry Pro Retail Sdn Bhd.
Temperature Controlled Delivery For Frozen & Chocolate Products
All Pastry Pro Frozen Products are delivered using the Cool Ta-Q-Bin temperature controlled delivery.
For now, Cool Ta-Q-Bin only covers certain locations in Klang Valley, Johor Bahru and Penang.
To check if your area is within Ta-Q-Bin's coverage area, go to the link below and enter your postcode:
http://my.ta-q-bin.com/v2/content.php?id=56
Delivery will take 3 to 5 working days upon payment.
WHERE INDICATED, PLEASE SELECT TA-Q-BIN AT CHECK OUT