Descriptions
Chocolate Warmer, 1.5L
Chocolate Warmers are used to melt chocolate and to maintain chocolate at a desired temperature. These units comprise of a resistant plastic support, a removable stainless steel container and a lid. All facades on the steel containers are heated to melt chocolate evenly. Heating temperature is controlled by a thermostat.
Features
*** Durable plastic structure, containers and lids made of stainless steel.
*** Removable containers.
*** Dry (no water) heating system at both the bottom and sides to guarantee an even temperature.
*** Analogue thermostat to adjust temperature.
About ICB Tecnologie
ICB Tecnologie specializes in the production of machines for
pastries and machines for chocolate.
The company is actively present in both the italian and international
market, while participating in the major trade fairs.
ICB Tecnologie is well respected amoung industry experts for its professionalism, technological evolution and constant
attention to customers' needs.
Packing: per unit
Brand: ICB Tecnologie (Italy)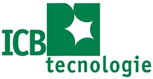 Specification
Capacity: 1.5 litres
Wattage: 80 W
External W x D x H (cm): 23 × 26 × 14
Basin W× D×H (cm): 15.5 × 14 × 10
Voltage: 220/240V
Temperature: up to 60 °C