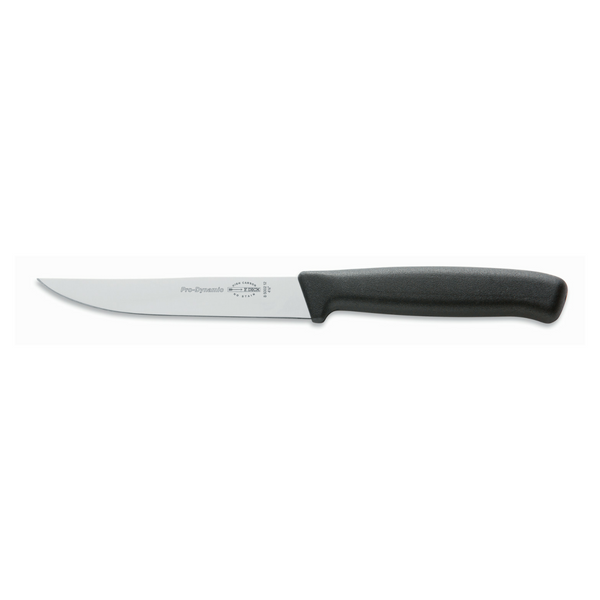 F.DICK, Steak Knife, 11cm (4.5''), ProDynamic
Product Specification
Steak Knife - ProDynamic
ProDynamic, the light series
ProDynamic knives are designed for use in all cooking areas. Their hygienic handle is made from solid plastic. These knives come with high quality blades, and a total modern design.
Steak Knife
The steak knife is classed as cutlery because it is used less by chefs and more by guests at the table. A special kind of knife that should ideally be used when cutting steak, meat and fillets in order to cut clean and appetising pieces and slices. The steak knife is particularly ideal here because the cutting edge is divided into two sections. A serrated edge - with particularly fine serrations - is attached to the front section. The middle and rear section of the cutting edge is smooth. Thanks to the two cutting types, the crust of meat (with the serrated edge) and also the meat itself can be cut cleanly.
Specifications
Type: Steak Knife
Length: 11 cm OR 4.5"
Handle colour: Black
Blade material: High carbon, no stain German steel
Handle material: Solid plastic
Series: ProDynamic
Packing: per piece
Brand: F.Dick (Germany)
Delivery
Standard Delivery
Delivery lead time:
** Three (3) to seven (7) working days for Peninsular Malaysia, and
** Five (5) to ten (10) working days for East Malaysia including Labuan,
from the date you receive our payment notification within the aforesaid areas unless otherwise notified by Pastry Pro Retail Sdn Bhd.
Temperature Controlled Delivery For Frozen & Chocolate Products
All Pastry Pro Frozen Products are delivered using the Cool Ta-Q-Bin temperature controlled delivery.
For now, Cool Ta-Q-Bin only covers certain locations in Klang Valley, Johor Bahru and Penang.
To check if your area is within Ta-Q-Bin's coverage area, go to the link below and enter your postcode:
http://my.ta-q-bin.com/v2/content.php?id=56
Delivery will take 3 to 5 working days upon payment.
WHERE INDICATED, PLEASE SELECT TA-Q-BIN AT CHECK OUT