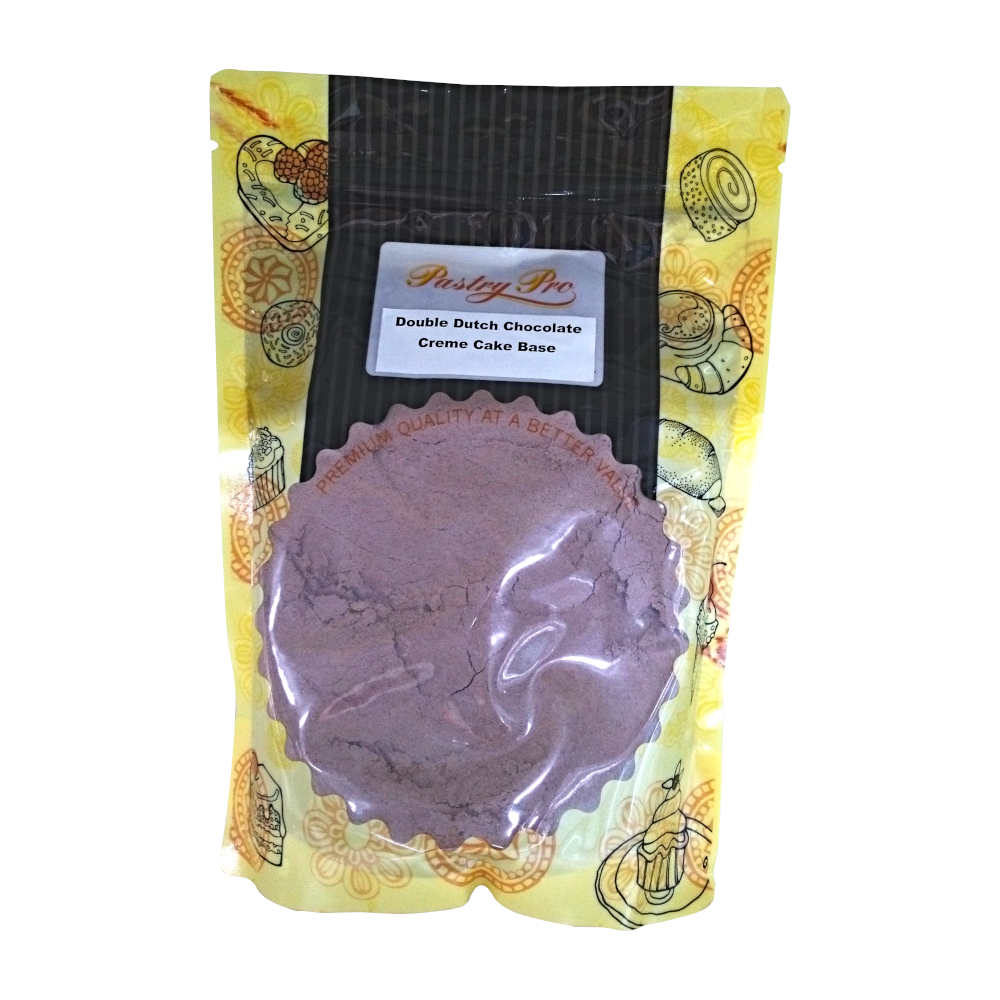 Dawn, Double Dutch Chocolate Creme Cake Base
Description
Cake Base - Double Dutch Chocolate Creme Cake Base
(Richcreme Base)
Weight: 1 kg per bag
The original cream cake with wonderful flavour and delicious pudding style eating texture.
Gives your cakes incredible fruit suspending capabilities.
Made to produce rich and moist cakes, muffins, loaf cakes, ring cakes and much more.
Bake and Freezstable.
Benefits of using Dawn:
Fast and easy

Fantastic taste (moist, soft, and even crumb texture)


Consistent (its high tolerance to difference, lets you recreate the same delicious desserts over and over again)

Excellent volume

Good shelf life.
Ingredients
Sugar, wheat flour cocoa powder, modified starch, vegetable oil, disodium diphosphate, sodium bicarbonate,monocalcium phosphate, sweet why powder, salt, colour, wheat gluten, mono and diglycerides of fatty acids, lactic acid esters of mono and diglycerides of fatty acids, propane-1,2-diol esters of fatty acid, eggalbumen powder, thickner, natural flavouring, soya flour, flavouring.
About the brand
Dawn Foods promises customers and families around the world can count on them to make life's moments memorable. Dawn Foods is a family company that has been creating high-quality bakery ingredients and products for nearly 100 years. From innovation to inspiration, the world's leading bakers count on them to build their business.
Recipe
Double Dutch Chocolate Creme Cake Base, 1000 g
Whole Egg, 350 g
Vegetable Oil, 300 g
Water, 225 g

Working Method:
1. Mix together with a beater cake mix, eggs, oil and water for 2 minutes on slow. Scrape down and beat further for 4 minutes.
2. Bake it at 180°C for around 30 to 35 minutes.
Packing: 1 bag x 1 kg
Brand: Dawn
Delivery
Standard Delivery
Please allow:
** Three (3) to seven (7) working days for Peninsular Malaysia, and
** Five (5) to ten (10) working days for East Malaysia including Labuan,
from the date you receive our payment notification within the aforesaid areas unless otherwise notified by Pastry Pro Retail Sdn Bhd.
Pre-order Delivery
Please allow: 3-4 months for pre-order deliveries from the date you receive our payment notification unless otherwise notified by Pastry Pro Retail Sdn Bhd.
Please note that we will not accept delivery to a P.O. Box address and it might not be possible for delivery to some locations within the aforesaid areas in certain circumstances. If delivery to some locations is not possible, we may contact you to arrange for delivery to an alternative address.
Customer are required to choose their preferred courier service. Delivery charges of all our partners will be published before checking out of shopping cart.
Customer comments
| Author/Date | Rating | Comment |
| --- | --- | --- |