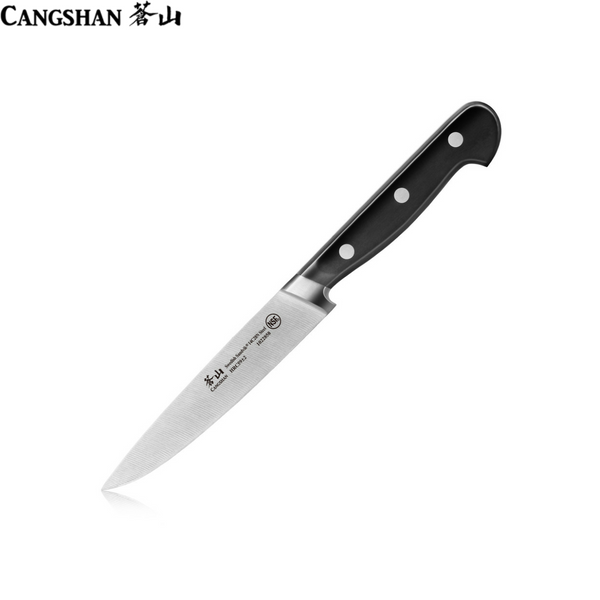 Cangshan Utility Knife, 5"
Description
Utility Knife, 5"

Cangshan knives are the finest blades you can lay your hands on. These knives are made from the highest quality steel in the world, Sandvik (Sweden) - with a hardness of 60 HRC (Rockwell Hardness).
The Rockwell Hardness scale is extensively used by metallurgists to define exactly how hard a piece of steel is and, the higher the number, the harder the steel. A particular metal's rating is important to any knife maker because a harder steel will hold an edge better than a softer steel.
The hardness of a knife is a very important indicator of its performance and durability.
Cangshan knives are among the top performance knives in the world.
Surpassing all in sharpness, quality and exceptional balance.
On top of that, your Cangshan knives comes with a beautifully designed cover.
UOM: pcs
Brand: Cangshan (China)
Utility Knife
Smaller than a chef's knife but larger than a paring knife, this versatile knife and used for everyday tasks, from cutting sandwiches to slicing meat.

Performance
Knives durability are determined by 2 measurements:-
1. Initial Cutting Peformance (ICP)
2. Total Card Cut (TCC)
How do you determine sharpness?
Initial Cutting Performance (ICP) determines how sharp a knife is after sharpening.
Above 110 is excellent.
Below 30 is poor.
Cangshan knives is the perfect balance between hardness and brittleness. Sharpness last 5 times longer than competitor's blades.
How long does it remain sharp?
Total Card Cut (TCC)
More than 550 – Excellent.
Below 100 – very poor.
Delivery
At this point in time, delivery service is extended to Malaysia only.
Please allow:
** Three (3) to seven (7) working days for Peninsular Malaysia, and
** Five (5) to ten (10) working days for East Malaysia including Labuan,
from the date you receive our payment notification within the aforesaid areas unless otherwise notified by Pastry Pro Retail Sdn Bhd.
Please note that we will not accept delivery to a P.O. Box address and it might not be possible for delivery to some locations within the aforesaid areas in certain circumstances. If delivery to some locations is not possible, we may contact you to arrange for delivery to an alternative address.
Customer are required to choose their preferred courier service. Delivery charges of all our partners will be published before checking out of shopping cart.
Customer comments
| Author/Date | Rating | Comment |
| --- | --- | --- |