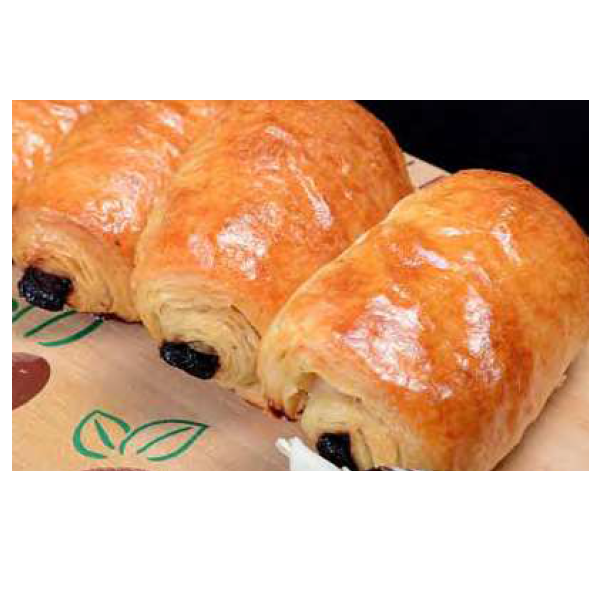 Bread Waze, Danish, Mini Chocolatine (Chocolate Roll)
Description
***SHIPS TO KLANG VALLEY, JOHOR BAHARU & PENANG ONLY***
Bread Waze, Danish, Mini Chocolatine (Chocolate Roll)
Frozen, Preproofed
Weight: 32 gm per piece
Packing: 1 box x 90 pcs
Pre-proofed Instructions
Baking instructions for Ready Baked Croissants & Danishes - NO PROOFING REQUIRED
Oven Steam
(seconds)
Convection / Rack Oven Temperature
Baking Time
(minutes)

8 - 10

170°C

15 ± 2
Deck Oven Temperature
Baking Time
(minutes)
Thawing time:
Thaw for 15 - 20 mins, before placing the product in the oven

220 °C

20 ± 2
Notes:
1. Keep frozen at -18°C to -20°C.
2. Place pieces on parchment paper or grease baking pan.
3. To avoid freezer burn, tightly seal unused product in the enclosed bag and return the box immediately into the freezer
4. Egg washing is optional.
5. For best results in volume of flakiness, baking with steam is required.
6. Baking time & temperature vary depending on oven type and atmospheric enviornment.
7. Bake product to a medium gold colour in order for the product to be flaky and retain flakiness longer.
* Freshness: 6 hours after baking
* Shelf life: 24 hours after baking
---
***How We Ship***
AT CHECK OUT PLEASE SELECT TA-Q-BIN AS YOUR SHIPPING OPTION
--- Selecting Other Options Will Incur Additional Charges & Delays ---
We arrange special temperature controlled delivery that will not compromise the quality of your frozen puree.
We only deliver our Frozen Products to Klang Valley, Johor Bahru & Penang
Delivery will take 3 to 5 business days from payment received.
---